Valentine's Weekend!
9th February 2022 | Events
Join us this Valentine's Weekend.
Here at Cityglen Pub Co, Valentine's Day is all about sharing.  Sharing a great experience, atmosphere, food and drink! The Valentine ambience will be with us all across the weekend!
We start Friday night with our regular Jazz Jam session, Jazz of course the music of love! Lauren Dalrymple of SoFFmusic will be back with her band to entertain from 8pm until late, with guest artists. If you are in the mood to swoon someone, bring your voice or instrument and join in.
We will have our usual Fizz Friday offer for £15 a bottle of our house Prosecco.  However, Pink Fizz seems a little more appropriate for the occasion! When enjoying 2 of our main courses across the weekend, share a bottle of our Bel Canto Pink Prosecco for only £20.
We are not only sharing a bottle of fizz, but also our small plates.  When you just can't decide, they are the perfect dishes to share. This Friday & Saturday, enjoy 3 of our small plates for only £15!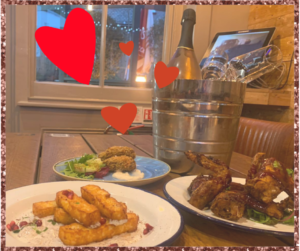 View our food & drinks page to see all of our menus.
We'll be showing all the Six Nations games across the weekend with volume in the bar area.  If that's the experience you love to share, we can deliver! And then stay for dinner as we drop the lights down low…..